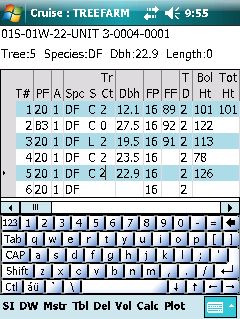 Input Screen for Pocket SuperEASY


Manuals are in PDF form

Telephone software support is available on a yearly or hourly basis for SuperACE/FLIPS and Pocket SuperEASY.
Support for Pocket SuperEASY
Pocket SuperEASY
Installation Guide
Pocket SuperEASY
User's Manual
Pocket SuperEASY Training Videos
This collection of videos is meant to provide users with an introductory level of exposure to Pocket SuperEASY and its functions. The training videos can be used in conjunction with the manual and/or a Pockect PC with Pocket SuperEASY for greater understanding. The videos can be paused, moved back or forward, and played as many times as needed, allowing users to go at their own pace.
These movies require Adobe Flash Player. (Most people already have this)
ROS/DOS version of SuperEASY
We no longer support or sell the ROS/DOS version of SuperEASY. Due to changes in computer hardware and operating systems, the ROS/DOS version of SuperEASY has become obsolete. We recommend upgrading to the current version of Pocket SuperEASY for the Pocket PC.
CMT Support Announcement
Atterbury Consultants, Inc. no longer supports or sells the Corvallis Microtechnology MC5, PC5, PC5L, or DOS based Juniper Allegro data recorders effective March 31, 2008. Due to new advancements in the field data recorder market, the DOS and ROS based handhelds have become obsolete. Corvallis Microtechnology (CMT) and other manufacturers stopped production of their DOS and ROS based units in 2005.
The DOS and ROS based handhelds frequently have difficulties communicating with new computers due to PC hardware limitations (lack of serial ports) and limitations of the Windows operating system. These limitations have made customer support very difficult, in that, problems occur with the DOS/ROS based Super EASY program and the DOS/ROS Scale EASY program, support for both of these software programs is also discontinued. The SuperACE PC program will still allow users to download from SuperEASY. All SuperEASY and ScaleEASY users are encouraged to purchase the new Pocket SuperEASY and ScaleWM software for Pocket PCs.
Purchase Pocket SuperEASY
SuperACE Seminars
Email Software Support
Replacement CDs can be ordered on the product page.