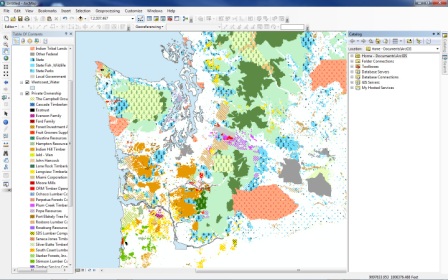 ArcGIS 10.x
ArcGIS Extensions
ArcGIS® 3D Analyst
Maps are used to examine the spatial relationships in data. With 3D Analyst, see the effect that mountains, valleys, building profiles, and other three-dimensional objects have on these relationships.
Generates three-dimensional contours.
Integrates data from computer-aided design (CAD).
Performs statistical analysis in three dimensions.
Creates density surfaces from attribute data.
Performs line-of-sight analysis & create three-dimensional visibility maps.
Works with most common data formats.
Builds true three-dimensional surface models from any point data source (including GPS).
Models real-world surface features such as buildings. Also, model subsurface features-wells, mines, groundwater, and underground storage facilities.
Drapes two-dimensional features or image data on three-dimensional surfaces and have complete access to tabular data via interactive query.
ArcGIS® Image Analysis
ArcGIS Image Analysis enables ArcGIS users to go beyond using images as a backdrop for vector maps. Digital imagery can also be used for data visualization, data extraction/creation, and analysis.
Quickly display and manipulate image data.
Georeference imagery to shapefiles, coverages, global positioning system points, or reference images.
Perform image enhancement.
Automatically map feature boundaries.
Perform change detections or continuous and thematic imagery.
Perform multispectral categorizations for land cover mapping & data extraction.
Perform vegetation greenness mapping.
Mosaic imagery from different sources and different resolutions.
ArcGIS® Spatial Analyst
This extension allows one to create, query, map, and analyze cell-based raster data and to perform integrated raster-vector analysis. Raster-Vector Integration: Unique to ArcGIS Spatial Analyst is the ability not only to work with raster-based data (including the ability to overlay, query, and display multiple raster themes) but also to perform integrated raster-vector theme analysis. This analysis would include a task such as aggregating properties of a raster theme based on an overlaid vector theme. For example, direct mail campaigns can be focused on customers within complex polygon areas that are determined by spatial analysis of drive time and proximity to service centers.

With Spatial Analyst one can:
Convert features themes (point, line, or polygon) to grid themes.
Create raster buffers based on distance or proximity from feature or grid themes.
Generate density maps from themes containing point features.
Create continuous surfaces from scattered point features.
Produce contour, slope, and aspect maps and hill shades of these surfaces.
Perform cell-based map analysis.
Execute Boolean queries and algebraic calculations on multiple grid themes simultaneously.
Perform neighborhood and zone analysis.
Do grid classifications and display, and more.