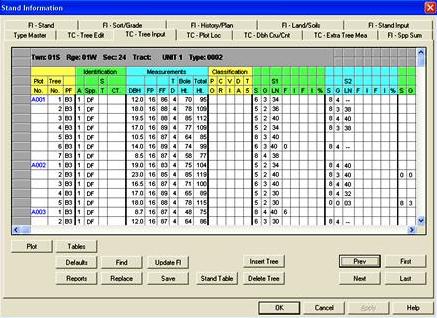 SuperACE Stand Information Screen

The ability to customize means more flexibility in planning and managing

Contains extensive online help screens that include an easy to use "how to" section.

Flexible Cruise Design
Proportional Plot (prism)
Fixed Area
Strip Cruise
100%
Combinations of Sampling Systems
SuperACE 2023
--

This page is being updated -

Please call with questions - see User Manual on right -

The SuperACE 2023 timber cruise program creates a flexible and friendly approach to forest inventory management. It allows users to manage forest inventory data on small, medium, and even very large timberland parcels.

New features include:
Optimization for Windows 10 environment.
Poles & piling report detailed by class.
New bark thickness formula for DF & WH, 2-digit top diameter fraction and site point/form point option allow finer resolution of tree shape.
Direct download from your current WinMobile handhelds.
Export of exact report format to Excel file.
Collect and report additional tree measurements such as bark thickness and heights for site index on off-plot trees.
Additional sample plot options.
Calculations for Relaskop, RD1000 and laser tree measurements can auto-populate tree input
Tree Edit line shows log value, allowing log optimization.
Familiar look and feel.
New program architecture allow quicker upgrades.

SuperACE 2023 continues to offer:

Graphs and reports export to PDF for easy distribution.
Report volumes in cubic and board foot rules.
Report board feet, cubic feet, and timber values.
Heights may be measured to a bole height or total height.
Logs may be defined with fixed lengths or variable lengths.
Sort, grade, and defect for individual logs are definable.

Automatically input data from Pocket SuperEASY, our Pocket PC based cruise program.




TRY BEFORE YOU BUY

DOWNLOAD THE LATEST SUPERACE HERE!

Call Diane for a trial license key to activate your trial.

SuperACE 2023 works on all versions of Windows at this time. Existing Users - SuperACE gets an update when significant "bugs" have been caught and fixed. Please check your version number, which can be seen at the top left of your SuperACE window. If you need to update your version of SuperACE, please use the link below. The software will load over the top of your current version. THIS IS BEING WORKED ON CURRENTLY 03/21/2023

Update for existing users - the current version is V.4.00.02 and can be downloaded here-AGAIN, this is for EXISTING USERS ONLY:

SuperACE 2023 UPDATE Version 4.00.02





FREQUENTLY ASKED QUESTIONS: We plan to post answers to your most important questions here. COMING SOON! Please email your questions to:

Diane - dsandefur@atterbury.com

Diane will get back to you with the answers you need to move forward with your project.
Downloadable SuperACE Manuals
User Definable Tables
Species
Sort
Grade
Cost
Price
Reports Include:
Catalog
Stand Table
Sort-Grade
Log Stock Table
Timber Evaluation
Statistics
Graphics
Species, Sort and Grade
and more...