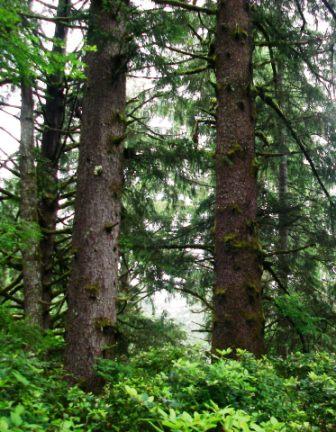 Software products that Atterbury Consultants has designed and marketed:
•
ForestVIEW™
- A geospatial information system extension
•
SuperACE™
- A timber cruise report application
•
FLIPS™
- A forestland inventory program
•
ScaleEASY
- A log scaling application
•
SuperEASY
- A timber cruiser's data input application
•
Pocket SuperEASY
- A timber cruiser's data input application
Atterbury Consultants has had a website since 1996. Our old web pages have been archived by an independent 3rd party and can be found
here.
Company Information
Atterbury Consultants has been a forestry consulting firm for over 30 years.
Atterbury Consultants, Inc. was formed by Toby Atterbury in 1985 as a forestry consulting firm specializing in timber inventory and valuation. His goal has been to make professional forestry understandable while providing accurate and cost effective solutions to clients' needs. Since then, the company has grown into several service areas.
We provide services in the following:
Land and Timber Appraisals
Timber Cruising
Wood Supply Studies
GIS and Imagery Processing
Software Sales
Custom Mapping
Stockpile Measurement
Custom Seminars
Equipment Sales
We work with a wide variety of clients from large timberland corporations, pension fund companies, and banks as well as small private landowners. Assets of these clients vary from small tracts of 40 acres up to over 1,000,000 acre holdings. We can operate in all 50 states, but our focus is in the Pacific Northwest, where we have our offices. Due to the globalization of the forest products industry, client assignments have also occurred in Canada, Russia, and South America.
Atterbury Consultants, Inc. is a full-service forestry consulting firm offering a variety of appraisal, timber cruising, inventory, management, and analysis services. We are capable of covering all phases of timberland asset evaluation and management, providing third party expertise for many absentee owners. We welcome the opportunity to assist you with your investment or management needs.
Partial List of Clients
Oregon Department of Forestry
Washington DNR
Alaska DNR
Weyerhaeuser Co.
Longview Fiber
Hampton Tree Farms
Stimson Lumber Co.
John Hancock Insurance
Forest Capital Partners
Bonneville Power Administration
Green Diamond Resources
Sierra Pacific Industries
Ecotrust
Georgia Pacific Corporation
Oregon State University
Bank of America
Jeld-Wen Timber Resources
Evenson Timberland Agency
And Others...