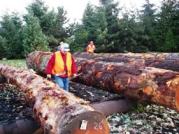 Instructors:
Tom St. Laurent
Scaling Manager for Yamhill Log Scaling and Grading Bureau, has extensive experience as a timber cruiser in Oregon, Washington, and Alaska.
Toby Atterbury
CEO of Atterbury Consultants, Inc. since 1985. Toby has 50 years experience in forestry, both nationally and internationally.
Comments from past participants:*
"Contained very useful information-will help in making cruises more accurate."
Mari Kramer, Assistant Tribal Forester/Forest Engineer
Confederated Tribes of Siletz
"A very useful and practical seminar. Good illustrations and discussion."
Mike Wheeler, Forester Appraiser
Farm Credit Services
The fee covers tuition and course materials. Class size is limited. Substitutions will be accepted. Payment or purchase order required prior to seminar.
*Testimonials are from 2001 version of seminar.
Log Scaling and Grading for Timber Cruisers with SuperACE
September 29 - 30, 2010
This seminar is designed to teach the use of SuperACE and the log grades and defect rules as applied in this region. The instructors demonstrate how to use the PC and Handheld programs to input data, edit, download, and write reports. Defaults, tables, and other aspects of the program are reviewed. SuperACE allows the user to input log lengths as they are bucked, apply sorts, grades, and defects as they are done by log scalers. Log scaling measurements, grading, and defect rules are reviewed. A field session demonstrates the use of this knowledge to measure the trees and apply the scaling rules in SuperACE to create the same volumes as determined by the log scalers.
Day 1
9:00 am
Introduction
9:30 am
Log Scaling and Grading in the Northwest
Log Scaling Bureaus and Publications
10:00 am
Break
10:15 am
Log Measurements
12:00 pm
Lunch (No Host)
1:00 pm
Log Grades and Sorts
3:00 pm
Defect Deductions
4:30 pm
Volume Calculations
5:00 pm
Adjourn
Day 2
| | |
| --- | --- |
| 8:00 am | Opening Menu |
| 9:00 am | Tables, Setup, Defaults |
| 10:00 am | Break |
| 10:15 am | Entering and Editing Cruise Data in SuerACE |
| 12:00 pm | Lunch (No Host) |
| 1:00 pm | Field Session |
| 3:00 pm | Download Data from Pocket SuperEASY |
| 4:00 pm | Generating Reports with SuperACE |
| 4:30 pm | Using FLIPS |
| 5:00 pm | Adjourn |
Seminar Goals
Learn basic log measurements and definitions.
Learn log grading rules.
Learn how sort codes are used by various log buyers.
Defects and DeductionsWest SideEast Side
Deductions in feet and inches and percent.
Become familiar with the rules of local scaling bureaus.
Seminar Benefits
View video and slide presentations showing: knots, log sorts, log defects, etc.
Open discussion time for specific questions and answers.
A field session to demonstrate practical application.
Comparing reductions for trees cruised in 32 foot logs and variable log lengths.
This program was reviewed and is approved for professional continuing forestry education credits by the Society of American Foresters. This program meets the SAF's Continuing Forestry Education guidelines and standards. Maximum 13.5 CFE Contact Hours, Category 1
A printable and faxable registration form can be found here.
E-mail Diane Sandefur dsandefur@atterbury.com for more information