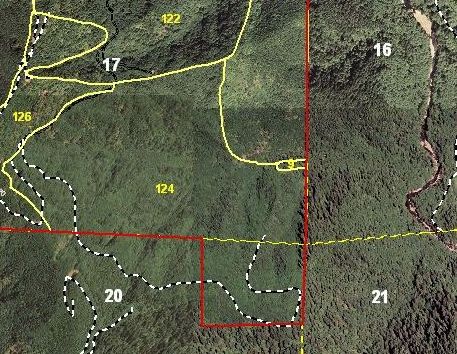 Timber stand typing within a GIS environment can lead to more accurate timber volumes.
Proximity location is a common theme for maps. It can be useful to rapidly visualize distances from harvest areas to mills, or from mills to potential harvest areas.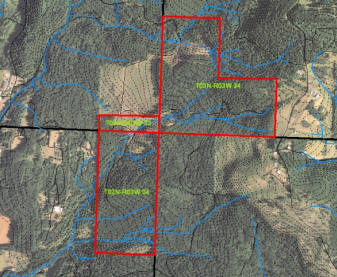 Parcel with streams and imagery.
GIS Mapping and Data Analysis
We provide meaningful answers to complex questions through the use of Geospatial Information Systems (GIS).

Our experienced GIS professionals can process a variety of analysis scenarios.
Timber Typing
Image Classification
Terrain Slope
View Shed Analysis
Overlay Processing
Proximity Relation
Buffer Zones
We can create maps of tree farms or other locations that include parcel boundaries, streams, roads, contours, PLS lines and imagery. The resultant data files can be used with ArcPad for navigation, additional data collection, and timber cruise plot location. This service is readily available for Oregon and Washington. Other States are dependant upon availability of data.
We use ESRI software for our GIS work. Customer shapefiles, coverages, and imagery are easily incorporated into our process because of the versatility of ArcView and ArcInfo. This software is a suitable platform for everything from individual tree farms to complex regional landscapes.
We offer a variety of products beyond the traditional printed map.
Maps can be output to PDF for easy reading with a computer.
We can also produce GIS data as KMZ files. This file works with Google Earth. If Google Earth is installed on your computer, you can download this file, unzip it, and then double click it. Google Earth will then automatically open up and zoom to the data.
Custom GIS Mapping
Project Mapping
Imagery Overlay
Imagery Maps with GPS Coordinates
Customized Ownership Maps
Data Analysis
Acreage Determination
Stand Typing
Buffer impact on total acres
Product Options
Printed / Laminated
PDF
Tiff
Shapefiles
ArcReader format
kml (kmz) for Google Earth
Data Types
Roads
Streams
PLS
Taxlot
Imagery
Contours
Ownership
Political Boundaries
and more...
Re-centering one of our existing ownership maps and adding proximity circles typically costs as little as $300.00.