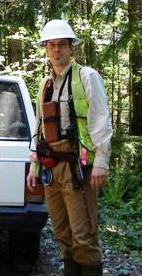 Jason Martin, the instructor, has extensive work experience using ArcPad in all kinds of field conditions.
Seminar participants learn skills that will save them time and money by doing their work efficiently. These skills could even be a lifesaver for someone that needs to follow an escape route in unfamiliar country.
Atterbury Consultants, Inc. keeps its class size small so that each participant, no matter their background, can have all of their questions answered and achieve a high level of comfort while using ArcPad.
All participants will have the opportunity to use ArcPad in a real timber environment.
Seminar participants receive an evaluation copy of the latest version of ArcPad and sample data.


Printable map of the area around Atterbury Consultants, Inc.




Printable map of hotels with contact numbers near Atterbury Consultants, Inc.
Using ArcPad in Forestry
This seminar is designed for field personnel who want to utilize color imagery and base data with ArcPad. We provide intuitive, easy-to-understand instruction that gives immediate results.
Originally marketed to foresters, this seminar meets the needs of any natural resource professional. Past participants include arborists, biologists, GIS analysts, loggers and foresters from both the private and public sector. We continue to work closely with our participants to develop a solution for their specific data and mapping needs. Our attendee's feedback has always been important to us and we continually update our class with new and pertinent information.
Our seminar is based on proven methods used by Atterbury Consultants' foresters while timber cruising, laying out harvest units, and collecting a variety of GPS data. Instruction covers optimizing a ruggedized pocket PC and using ArcPad to load imagery and existing base data such as a property lines or hazard tree locations, as well as connecting to Bluetooth devices such as a GPS receiver, camera, or laser rangefinder.
Day 1
8:00 am
Introduction
8:30 am
Pocket PC/Data Collector Settings
Power & Time Saving Features
Connection Settings
9:00 am
GPS Systems Comparison
10:00 am
Break
10:15 am
Introduction to ArcPad
12:00 pm
Lunch (No Host)
1:00 pm
Review
1:30 pm
ArcPad Accessory Options
2:00 pm
Live, On-Screen Review of
ArcPad Features, Tool Bars & Menus
2:30 pm
Break
2:45 pm
Creating Shapefiles
3:00 pm
Field Session # 1
Find, Collect, & Edit
Navigate to a Point
Traverse Roads and Culvert Crossings
Basic Field Editing

4:00 pm
Question and Answer Session
5:00 pm
Adjourn
Day 2
8:00 am
Review
8:15 am
Create and Use QuickForms
8:45 am
GPS Offsets with Laser Rangefinder
9:30 am
Break
9:45 am
Field Session # 2 - Timber Stand Demonstration
Find, Collect, and Analyze Field Data
12:00 pm
Lunch (No Host)
1:00 pm
Review
1:30 pm
Processing Field Data
Downloading Field Data
Displaying and Editing Labels
Changing Symbols
Setting the Reference Scale
2:30 pm
Break
2:45 pm
Demonstrate ArcPad Add-Ons
Shapefile Manager
Create Polygon Donuts
Change the GPS Symbol
Modify Find and PDOP display
4:00 pm
Question and Answer Session
5:00 pm
Adjourn
With ArcPad, tasks that might have taken hours such as, navigating to a new job or collecting accurate data under a dense canopy or near a tall building are simplified and easily explained by our instructors. Participants will learn how to collect and query line data such as roads, streams or sidewalks, point data such as hazard trees or culvert locations, and area data for stand typing or acreage calculations. Second day attendees also learn how to build an attribute table, utilize the QuickForm function of ArcPad to rapidly catalog geospatial location and any number of categories the user chooses, such as tree condition, species, diameter, observed pest infestation, culvert size, and culvert length; the list is endless and only depends on the users needs.
Highlights
Navigation Capabilities
Edit Data in the Field
Collect Meaningful Data
Improve GPS Data Quality
Move In/Around a "Live" Map
Query Existing Data
Measure Distance and Area (Calculate Acres)
Integrate Laser Rangefinders and GPS Receivers
Utilize 1 Meter Color Imagery
Goals
Learn Pocket PC and ArcPad Basics
Understand What Functions are Needed for your Job
Reduce Navigation Time
Query and Physically Locate Existing Data/Feature
Find Corners, Lines, and Plot Centers Quick and Easy
Create More Accurate Data
Edit and Transfer New and Existing Data
Connect to a Bluetooth GPS Receiver
Create Shapefiles for Points, Lines, and Polygons
Use Laser Rangefinders for Creating Offset Points
Change and Reference Map Scale
Have the Proper Coordinate System for Every Job
Data Available for the Next Person
Go Home Ready to Use ArcPad
A printable and faxable registration form can be found here.
E-mail Jason Martin jmartin@atterbury.com for more information