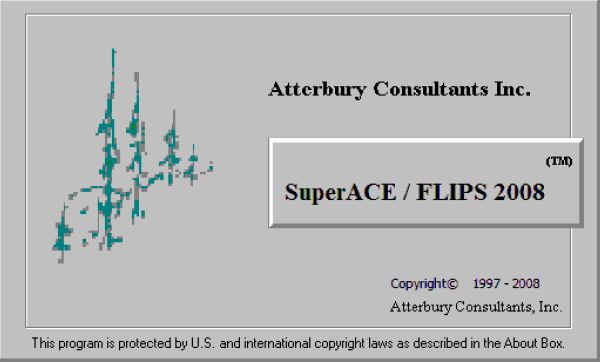 Splash screen for SuperACE 08

Toby Atterbury is the instructor

SuperACE / FLIPS manuals can be found under support

Fee based technical support can be purchased on the SuperACE product page







Printable map of the area around Atterbury Consultants, Inc.





Printable map of hotels with contact numbers near Atterbury Consultants, Inc.
SuperACE / FLIPS Seminar
Atterbury Consultants offers a two-day seminar on our SuperACE/FLIPS 08 timber cruising and inventory software. This Seminar uses a "how-to" approach to cover tables, data input, data backup, restoring data, reporting, and more. This is a great opportunity for those that are new to this software as well as intermediate users looking to increase their knowledge and efficiency.
Day 1 - SuperACE and Pocket SuperEASY
9:00 am
Introduction

9:15 am
Review SuperACE

Tables
Data Input screen
Data Edit Screen
Reports
Exporting Reports
Count Plots/Count Trees
Importing handheld data

12:00 pm
Lunch (No Host)
1:00 pm
Using Pocket SuperEASY

Supported handhelds
Entering data via handheld
Downloading Data to PC

3:00 pm
Creating New Projects

Entering Data
Setting Timber Types

4:00 pm
Maintenance

Stand Level - Copy and Delete Types, Copy Plots
Project Level - Copy and Delete
Using Backup and Restore
Copying MDB files

5:00 pm
Adjourn
Day 2 - FLIPS
9:00 am
Introduction to FLIPS
9:15 am
FLIPS Functions

FLIPS Tables
FI Screens
Import plot data from SuperACE
Growth
Reports
GIS Linkage

12:00 pm
Lunch (No Host)
1:00 pm
Using FLIPS

Entering Data
Creating new projects and timber types
Stand Input
History/Plan
Land/Soils

3:00 pm
Class Project
4:30 pm
Adjourn
Features
Review SuperACE Features and Functions
Explore On-line Help, Tables, and Reports
Import Data from a Pocket PC
Grow Inventory
Export Reports to PDF
This program was reviewed and is approved for professional continuing forestry education credits by the Society of American Foresters. This program meets the SAF's Continuing Forestry Education guidelines and standards.
Maximum 14.0 CFE Contact Hours, Category 1
A printable and faxable registration form can be found here.
E-mail Diane Sandefur dsandefur@atterbury.com for more information