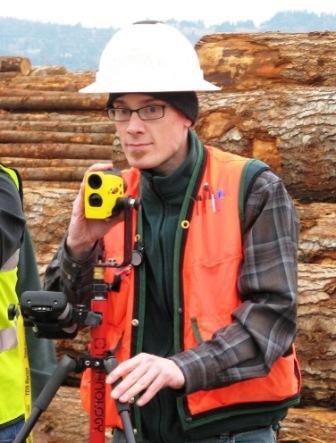 ACI forester Jason Martin with MapSmart on a Trimble Recon and the TruPulse 360 hardware configuration.
We are unable to ship Laser Technology equipment outside of the US.
MapSmart Stockpile Volume Calculation Software
The MapSmart software will automatically calculate the volume of almost any stockpile. The entire process can be accomplished by one person in a matter of several minutes for a small pile or a few hours for a very large pile. The reported results include perimeter, area, traverse closure, volume, and weight.
Pile Measurement Procedure:
Walk around the pile, temporarily marking instrument points that will afford full coverage of the surface.
Choose a starting point, set up and configure the equipment.
Aim and shoot the base or "toe" points of the pile. Then shoot the surface or "pile" points.
After collecting your last data point at an instrument location, aim and shoot to the next instrument location (traverse) and then occupy that point. (backsight necessary with Angle Encoder)
Continue shooting the pile from each new location until the entire surface has been measured.
Volume information is instantly available on the Pocket PC. The field data may also be exported to a PC as a DXF file, a text file list of data point measurements, a BMP file of the contours, and other formats.
Detailed description of the entire measurement process.

Find out more about stockpile measurement training.

See complete equipment package product listing.
Advantages
Runs on a Trimble Recon or other Pocket PC.
Easy to Learn and Easy to Use.
Perform Distance, Area, Closure, and Volume Calculations in the Field.
Export Data into CAD-based Drawing Programs or as Picture Files with Contours.
System Requirements:
Impulse 200 or TruPulse 200 with Compass or Angle Encoder or TruPulse 360B
(see equipment listing)
Pocket PC such as the Recon 400X with integrated Bluetooth (running Windows Mobile 5.0 or Mobile 6.0)
MapSmart software for the Pocket PC
Desktop PC/Laptop running Windows 98/ME/2000/XP
RS232 cable (if not using Bluetooth)