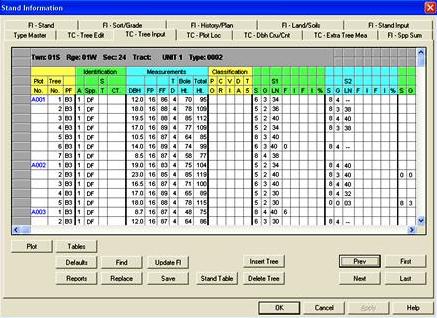 SuperACE Stand Information Screen

The ability to customize means more flexibility in planning and managing

Contains extensive online help screens that include an easy to use "how to" section.

Flexible Cruise Design
Proportional Plot (prism)
Fixed Area
Strip Cruise
100%
Combinations of Sampling Systems
This program requires Windows Professional versions.
SuperACE 08/ FLIPS
NEW! A New SuperACE Version is available
For the latest SuperACE, please go to the SuperACE 23 webpage -
The SuperACE timber cruise program, combined with the Forest Land Inventory Planning System program (FLIPS), creates a flexible and friendly approach to forest inventory management. It allows users to manage forest inventory data on small, medium, and even very large timberland parcels. It includes growth capability for single stands and entire ownerships. SuperACE/FLIPS links with GIS shapefiles to provide an integrated management package.
Graphs and reports export to PDF for easy distribution.
Report volumes in cubic and board foot rules.
Report board feet, cubic feet, and timber values.
Heights may be measured to a bole height or total height.
Logs may be defined with fixed lengths or variable lengths.
Sort, grade, and defect for individual logs are definable.
Automatically input data from Pocket SuperEASY, our Pocket PC based cruise program.
SuperACE 08 works on Windows XP, 7 , 8 and 10 Professional versions, 64 bit.
Windows 7, 8 & 10 may have permissions issues with SuperACE that are not present in XP. Your IT department should be able to address permissions issues.
As of December 31, 2012 we will no longer support or sell the 2004 version of SuperACE and FLIPS. Due to changes in computer hardware and operating systems, the 2004 version of SuperACE and FLIPS has become obsolete. We recommend upgrading to the current version of SuperACE/FLIPS before December 31, 2012. When a software product's EOL (End of Life) date occurs, customers will no longer have access to software updates and upgrades for that software product.
Downloadable SuperACE Manuals
User Definable Tables
Species
Sort
Grade
Cost
Price
Reports Include:
Catalog
Stand Table
Sort-Grade
Log Stock Table
Timber Evaluation
Statistics
Graphics
Species, Sort and Grade
and more...